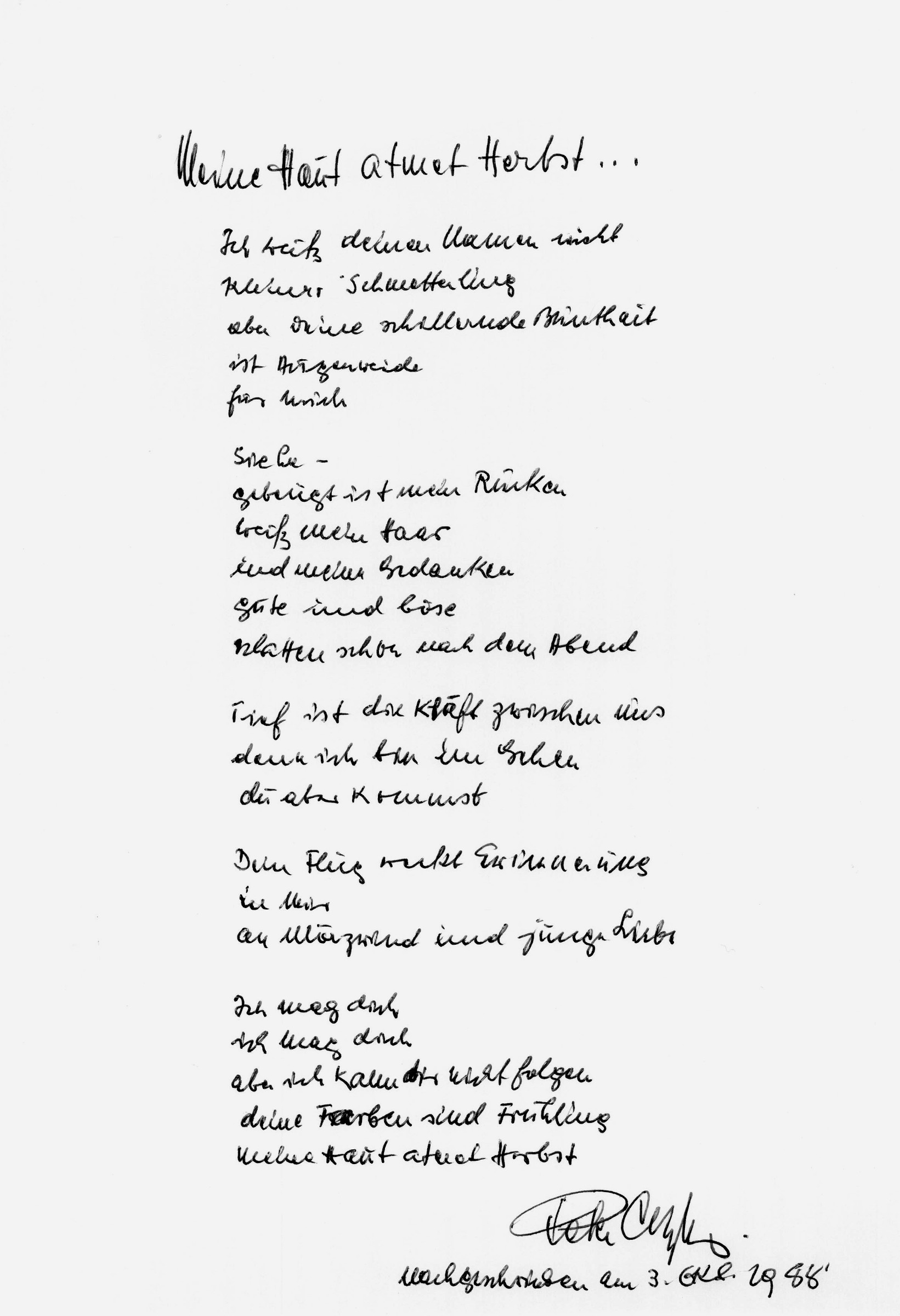 SKIN
Opening 22.10.2022 6-9pm

23.10 - 12.11.2022
by arrangement
info@kimgo.de
Das Thema der Ausstellung ist Haut
Haut als Grenzuebergang zu einem
illusionistischen Raum oder zum Nichts.
Artist
Dorothee Diebold
Tim Plamper
Emilia Kubacki
Max Geisler
Jagoda Bednarsky
Ellen Moeckel
curated by Thomasine Andersson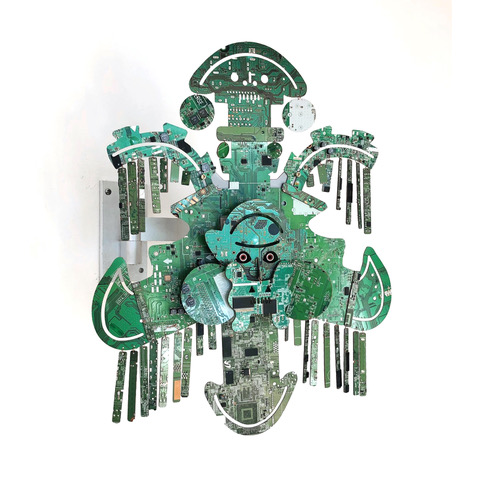 NIGHT VISION

MAZENETT QUIROGA

In the framework of the BERLIN ART PRIZE 2022



LAGE EGAL + PROJECT SPACE KIMGO

John-Schehr-Straße 1, 10407 Berlin-Prenzlauer Berg



Thursday, 01.09 2022, 6—9pm

02.09 — 14.10 2022

FRI — SUN, 3—7pm


After two years of pandemic pause, the experimental, solidarity-based, independent Berlin Art Prize is back to ask: what does contemporary art in Berlin have to say?
The Berlin Art Prize concept is simple yet singular – all Berlin-based artists are invited to apply. A five-member jury selected nine nominees according to an nearly anonymous process. The nine artist nominees are each invited to present a solo exhibition in one of nine project spaces, making the Berlin Art Prize 2022 once again a major collaborative project. This years nominees are Alicja Rogalska, Bassem Said, Hana Yoo, Isabell Schulte, Lucas Odahara, Mazen Khaddaj, Mazenett Quiroga and Melanie-Jame Wolf.
LAGE EGAL is presenting the exhibition NightVision by the Colombian artist duo MAZENETT QUIROGA in PROJECT SPACE KIMGO.
NightVision intensifies the mythical time/landscape, i.e. the time of origin, the time when there was still no differentiation, when there were still no (ontological) boundaries between humans and animals, when everyone was (gente) people.
The show presents works that explore atmospheres, scent, humidity, twilight, hybridization, and the entanglements between the organic and the industrial. The title itself alludes to encounters which shape our knowledges, interconnections of all life forms, reinterpreted between animal/biological origin and mechanical technologies.
Revealing the ancient existence of the forest, the sensory space of the exhibition is a portal into the mythological darkness and mysterious alliances.
MAZENETT QUIROGA are Lina Mazenett & David Quiroga (*Colombia) who have been working as a collaborative duo since 2014. Combining the Western scientific disciplines of geology, astronomy, and economy, as well as cosmological, ritual, and social knowledge, Mazenett Quiroga assert the equal importance of Indigenous knowledge systems alongside Western science in understanding the complexities of the world around us. Recent shows include We are History, Somerset House London (2021–22), Consanguinity, Unfinished Camp, The Shed (2021), Pivô, São Paulo (2020), Goodman Gallery, Cape Town (2020) and Cristina Guerra Contemporary Art, Lisbon (2019). Upcoming projects include the 13th Mercosul Biennial in Porto Alegre, Brazil, and a Sculpture Space funded residency in New York (2023).
With special thanks to Gonzalo Angarita (Producer).




Project Space KIMGO present

𝘌𝘟𝘏𝘐𝘉𝘐𝘛𝘐𝘖𝘕

𝗢𝗨𝗧𝗥𝗔𝗚𝗘 𝗣𝗢𝗥𝗡,

Vernissage 05.05.2022
Finissage 27.05.2022

06.05. – 27.05.2022

Only by appointment

Artists
Katharina Arndt, Sascha Boldt, Gidi Gilam, Jonny Star

Curator Vanessa Souli
Als Outrage Porn wird jede Art von Medien oder Erzählung bezeichnet, die darauf abzielt, mit Hilfe von Empörung starke emotionale Reaktionen hervorzurufen, um das Interesse eines breiteren Publikums zu wecken, sei es in traditionellen Fernseh-, Radio- oder Printmedien oder in sozialen Medien mit erhöhtem Internetverkehr und Online-Aufmerksamkeit. Der Begriff Outrage Porn wurde 2009 von dem politischen Karikaturisten und Essayisten Tim Kreider von der New York Times eingeführt.

Unsere Zeit ist genau davon geprägt: Wut und Zorn selbst über die trivialsten Themen; ob es sich nun um einen Instagram-Post oder die Meinung eines Prominenten im Fernsehen handelt, unsere Cancel-Kultur trägt oft zu einem verzerrten Bild der Welt bei, in dem Geschichten, die uns in Wut und Empörung versetzen, hervorgehoben werden, während andere, die diese Frustration lindern würden, im Hintergrund bleiben. Sind wir süchtig nach dieser Art von "News Porno" geworden und haben unsere Fähigkeit verloren, uns auf die wirklichen Probleme zu konzentrieren, oder kann dies ein Weg zum Aufbau einer einfühlsamen globalen Gemeinschaft sein? Was bedeutet dieses Phänomen für unsere Gesellschaft? Vier Künstlerinnen und Künstler, deren künstlerischer Ansatz sich deutlich voneinander unterscheidet, sind eingeladen, sich kritisch mit dem Thema auseinanderzusetzen.

Kuratiert von Vanessa Souli.

Outrage porn is any type of media or narrative that aims to use outrage to elicit strong emotional responses in order to capture the interest of a broader audience, whether in traditional television, radio, print media or in social media. The term Outrage Porn was introduced in 2009 by New York Times political cartoonist and essayist Tim Kreider.

Our time is characterized by just that: Rage and anger over even the most trivial topics; whether it's an Instagram post or a celebrity's opinion on TV, our cancel culture often contributes to a distorted view of the world in which stories that send us into a rage and outrage are highlighted, while others that would alleviate that frustration remain in the background. Have we become addicted to this kind of "news porn" and lost our ability to focus on the real issues, or can this be a way to build an empathetic global community? What does this phenomenon mean for our society? Four artists, whose artistic approach differs significantly from each other, are invited to critically examine the topic.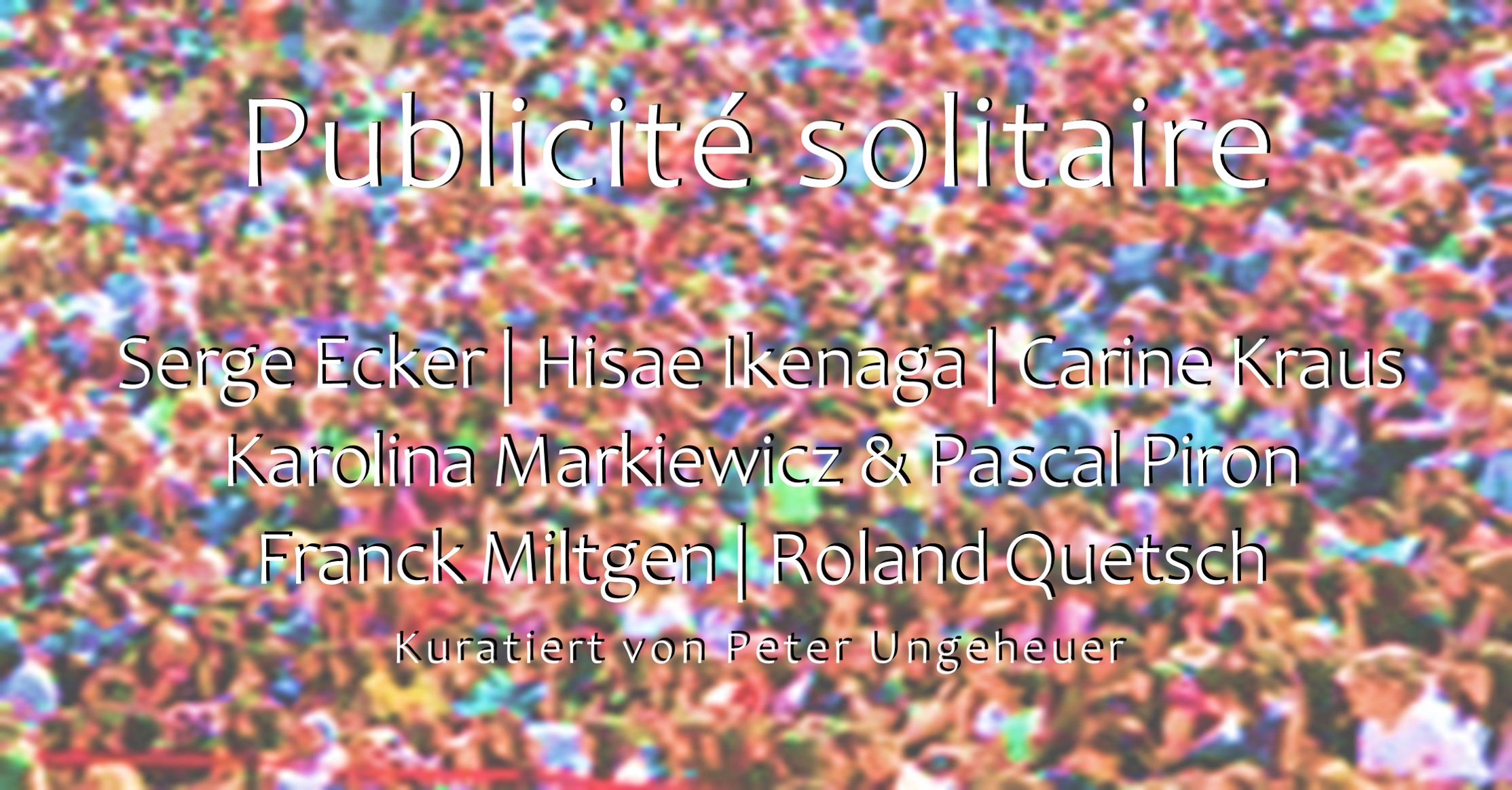 Publicitésolitaire
14. – 30.04.2022
Project space KIMGO
John-Schehr-Straße 1 (Ringbahn Greifswalder Straße, M4, M10 Greifswalder / Danziger)
14.04.2022 18 – 21 Uhr Eröffnung

30.04.2022 18 – 21 Uhr Finissage

Weitere Besichtigungstermine nach Vereinbarung - 01787850508
Serge Ecker | Hisae Ikenaga | Karolina Markiewicz & Pascal Piron| Franck Miltgen
Kuratiert von Peter Ungeheuer
Solitude publique
13. – 29.04.2022
Schau Fenster Raum für Kunst
Lobeckstr. 30-35 (U8/M29 Moritzplatz)
13.04.2022 19 – 23 Uhr Eröffnung
29.04.2022 18 – 22 Uhr Finissage
Weitere Besichtigungstermine nach Vereinbarung - 01787850508
Serge Ecker | Hisae Ikenaga | Carine Kraus | Karolina Markiewicz & Pascal Piron | Franck Miltgen | Roland Quetsch
Kuratiert von Peter Ungeheuer
Mit freundlicher Unterstützung
des Kulturministeriums des Großherzogtums Luxemburg
Öffentliche Einsamkeit und einsame Öffentlichkeit

Ein Künstlerleben ist häufig von einem interessanten, vielleicht zu selten diskutiertem Spannungsverhältnis durchzogen. Ideenfindung und Produktion sind trotz manchmal anwesenden Besuchern, Assistenten und Helfern in Ateliers ein recht einsamer Prozess eines Künstlers oder auch Künstlerkollektivs. Andererseits sind die Künstler selbst, aber vor allem ihre Werke, in Ausstellungen äußerst exponiert. Sie werden betrachtet, ästhetisch beurteilt, konzeptionell bewertet und schriftlich und mündlich diskutiert. Außer bei immersiver oder partizipativer Kunst kann die Öffentlichkeit aber keinen Einfluss mehr auf die Arbeiten nehmen, höchstens hinsichtlich der Perzeption. Diese Öffentlichkeit ist somit eine durchaus einsame, weil sie lediglich eine rezeptive ist. Natürlich findet insbesondere an Eröffnungsabend auch eine Interaktion zwischen dem Künstler und seinem Publikum statt, diese Begegnungen haben aber meist keinen Einfluss mehr auf die Arbeit selbst.

Wenn man nun Künstlerinnen und Künstler nach ihren Präferenzen oder Stärken und Schwächen fragt, ergibt sich ein komplexes Bild – jeder findet seinen eigenen Weg, mit diesem Paradox umzugehen und sowohl Einsamkeit als auch Öffentlichkeit zu lieben.

Andererseits denken viele Künstler an langen Tagen und Nächten im Studio voraus, wie eine Arbeit wirken soll, wenn sie gezeigt wird. Frei nach Heiner Müller ist dasWerkstets klüger als sein Schöpfer – vielleicht liegt das ja auch daran, dass der Entstehungskontext –einsam– und der Präsentationskontext – öffentlich– denkbar unterschiedlich sind.

Wir stellen in zwei parallel stattfindenden Ausstellungen in Berlin Arbeiten führender Luxemburger Künstler vor, die implizit oder auch explizit in diesem Spannungsfeld arbeiten.

Peter Ungeheuer, Luxemburg / Berlin, März 2022

Public solitude and solitary publicity

An artist's life is often permeated by an interesting, perhaps too rarely discussed, tension. Conceptual creation and production are quite a solitary process of an artist or artist collective, despite the occasional presence of visitors, assistants, and helpers in studios. On the other hand, the artists themselves, but especially their works, are extremely exposed in exhibitions. They are viewed, aesthetically judged, conceptually evaluated, and discussed orally and in writing. Except in the case of immersive or participatory art, however, the public can no longer exert any influence on the works, at most in terms of perception. This public situation is thus a thoroughly lonely one, because it is merely a receptive one. Of course, especially on opening nights, there is also interaction between the artist and his audience, but these encounters usually no longer have any influence on the work itself.

If one now asks artists about their preferences or strengths and weaknesses, a complex picture emerges - each finds his or her own way to deal with this paradox and to embrace both solitude and publicity. On the other hand, many artists spend long days and nights in the studio thinking ahead to how a work should appear when it is shown to its audience. Loosely based on Heiner Müller, the work is always smarter than its creator - perhaps this is because the context of creation - solitary - and the context of presentation - public - are conceivably different. In two parallel exhibitions in Berlin, we present works by leading Luxembourg artists who implicitly or explicitly work in this field of tension.

Peter Ungeheuer, Luxemburg / Berlin, march 2022

Ausstellungsort:
Project Space Kimgo
John-Schehr-Straße 1
10407 Berlin-Prenzlauer Berg

Vernissage:
05.03.2022 16–19 Uhr

Finissage:
Sa. 02.04.2022 17–20 Uhr

Artist Talk: 17 Uhr
Helena Kauppila, Diane Lavoie

Ausstellungsdauer:
05.03. – 05.04 2022

Öffnungszeiten:
Fri – Sa nach Vereinbarung 14–18 Uhr




HIDDEN VARIABLES

Helena Kauppila and Diane Lavoie

Project Space KIMGO is proud to present the two-person exhibition HIDDEN VARIABLES, highlighting the work of Finnish artist Helena Kauppila and North American artist, Diane Lavoie. Together the artists look at interacting with the biosphere. How does a scientific perspective allow for new pathways of connection? In what ways does our cultural upbringing influence how we perceive nature?While both women deal with the materiality of nature, as well as humankinds' perception of the natural word, Kauppila uses experimental data to inform her textural paintings, while Lavoie uses domestic and found materials to create her oversized and miniature, textile pieces.

A mathematician and a visual artist, Helena Kauppila currently lives and works in Berlin, Germany. Her work reflects the order of the genome, structure of mathematical theories, and the visceral human connection to nature and intuitive experience.She holds a Ph.D. in Mathematics from Columbia University and is the recipient of the Reginald Marsh and Felicia Meyers Marsh scholarship at the Art Students League of New York.In 2021 Kauppila was the ART/ist in residence at the Finnish Institute in Germany. She has had solo exhibitions in Berlin, Helsinki, and New York.

Diane Lavoieis a North American textile artist, living and working in Berlin, Germany. With her current collages and installations of forests and trees, she uses household textiles and found materials, to explore the ways in which we perceive and relate to our natural environments. She holds an MFA in painting from California State University Long Beach, where she received the, Arlac P. Sloan, scholarship. Lavoie has exhibited internationally and participated in artist residencies in Latvia, Germany and the USA.

Ausstellungsort:

Project Space Kimgo

John-Schehr-Straße 1

10407 Berlin-Prenzlauer Berg

Vernissage:

26. November 2021 14 - 21 Uhr

Ausstellungsdauer:

27. November - 12. Dezember 2021

Öffnungszeiten:

Di - Do nach VereinbarungFr - So 11-19 Uhr

Guest Curator: Setbyol Oh

Die Ausstellerinnen werden an der Vernissage, sowie einzeln an den Wochenenden vertreten sein.Die Ausstellung findet unter der 2G Regel statt, bitte bringen Sie Ihre Nachweise mit.



KUNST HANDWERK DESIGN AUSSTELLUNG
Duft der Zeit
Meist sind es die kleinen Dinge, die unseren Alltag zu etwas Besonderem machen. Das Gefühl am Morgen beim Kaffeetrinken, wenn die Lippen die Tasse berühren, die Zartheit feiner Stoffe auf der Haut oder warmes, gemütliches Licht, das uns willkommen heißt. Doch manchmal verpassen wir diese schönen, flüchtigen Momente. Wie kann es uns gelingen, den Duft der Zeit einzufangen und zu erhalten? Die vielseitigen Werke der Kunsthandwerkerinnen und Künstlerinnen laden dazu ein, den Augenblick als kostbares Geschenk wahrzunehmen. Sie lenken den Fokus auf die Schönheit im Detail und lassen uns die Zeit genießen. Wir können sie mit allen Sinnen wahrnehmen - der Duft der Zeit – mag eher flüchtig sein, nicht so die entstandenen Werk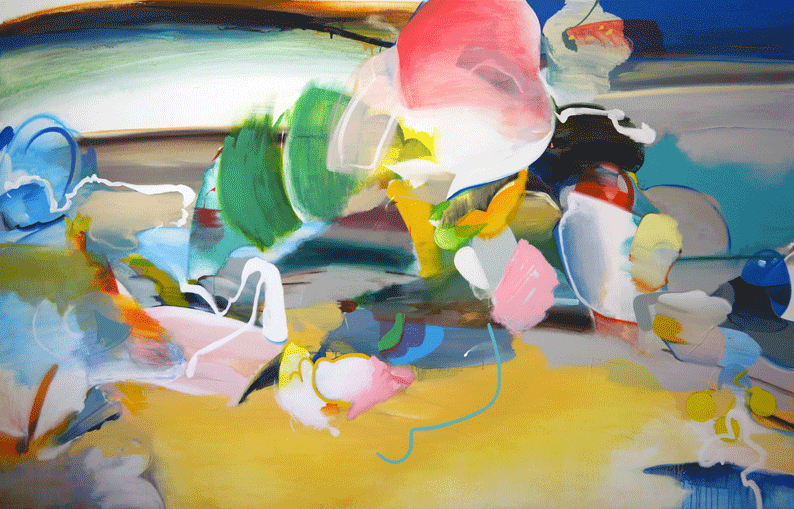 Vernissage: 29.10. 16 - 21 Uhr
Geöffnet: 30.10 - 14.11.2021 FR-SO 16 - 19 Uhr


PROJECT SPACE KIMGO
JOHN SCHEHR STR 1 D-10407, Berlin



UNO, NESSUNO E CENTOMILA
Giuseppe Madonia und Kiwan Choi

Uno, nessuno e centomila ist der Titel eines 1926 erschienenen Romans des Dramatikers Luigi Pirandello, der sich mit dem Verlust und der Erforschung des Selbst und dessen Wiederherstellung durch natürliche Regression befasst. Die Natur, die der Protagonist des Romans erreichte, war das sich ständig verändernde Selbst. Das moderne Subjekt scheint noch einen Schritt weiter gegangen zu sein. Die Teilung des Subjekts ist unvermeidlich und eine neue Natur, die sich selbst der Teilung erfreut und die Erweiterung unendlicher Möglichkeiten impliziert.
Die beiden Künstler schaffen in ihren Arbeiten durch Zerstörung und Wiederaufbau und ohne in der Welt der Pandemie nur auf sich selbst zu bestehen einen gemeinsamen Zusammenhalt, der offen für die Akzeptanz aller ist.

Eng
Uno, nessuno e centomila is the title of a novel published in 1926 by playwright Luigi Pirandello. It deals with loss and exploration of self and recovery through return to nature. The nature that the protagonist of the novel reached was a changing self, but the modern subjects seem to have taken a step further. The splitting of the subject is a new nature and inevitable, which connotes an infinite expansion of possibilities while enjoying the splitting itself.

In the form of destruction and reconstruction of the two artists, it connotes mutual solidarity that accepts difference without insisting on self in the Pandemic world.

" I have left traces of wings in the air"

Artist: ZINU KIM

we kindly invite you to the smooth opening
Fr. 02 July 2021 | 18:00 - 21:00
Opening Time: 03 - 23 July 2021
Thu - Sa 16:00 - 19:00

Curator: Baruch Gottlieb
My paintings express an intimate mythical realm through religious symbols, animals, personal memories and fantasies. As a child I learned painting while studying the Bible, this experience filled me with emotions and memories once I discovered Buddhism.
My paintings are fairytale-like and colorful, but there is a melancholy there. I express an external object, but freely, uninhibited and abstracted, like in a fairy tale.
The exhibition title "I have left traces of wings in the air" relates to the opaqueness of the Corona situation, when it became difficult to make decisions, and life began to appear so precarious, so radically uncertain and ephemeral.
In my paintings, weightless space is swaying in the wind. These are portraits of a fictive inner worlds or innocence that do not belong to the existing world order.



"Bonmots & Delikatessen"

Artist:
Christoph Bartolmäs, Immanuel Rohringer.

Vernissage: Freitag, 4. Juni 2021, 19 - 22 Uhr
Öffnungszeiten:
8. - 25. Juni 2021, Di.-Sa. 13 - 19 Uhr

Curator: Frank Massholder, Galerie Z22


Die Ausstellung ist Teil des ARTSPRING-Pankow 2021

In der Ausstellung thematisieren die beiden Künstler Alltagsgeschichten, dabei sind Genuss und Sprache ihr gemeinsamer Ausgangspunkt.
Bartolmäs' Werke handeln vom Verlangen und Genuss von Speisen und Getränken.
Sie verweisen auf die Kultur und Persönlichkeit der Konsumenten im privaten sowie
im öffentlichen Raum.
Die Werke zeigen verschiedene Esskulturen und damit einhergehende Unterschiede ihrer Zubereitung und ihres Verzehrs.
Rohringer widmet sich in seinen Bonmots-Serien dem Berliner Dialekt und englischen Idiomen. Diese sind auf Canvas und bunte Stoffe genäht und treten mal neongrell in den Vordergrund, mal finden sie sich in dezentem Kontrast zum Hintergrund. Sie setzen sich aus historischem und gegenwärtigem Sprachgebrauch zusammen.
Die Ausstellung zeigt die Fülle und Vielfalt des alltäglichen Miteinanders in der Gegenwart.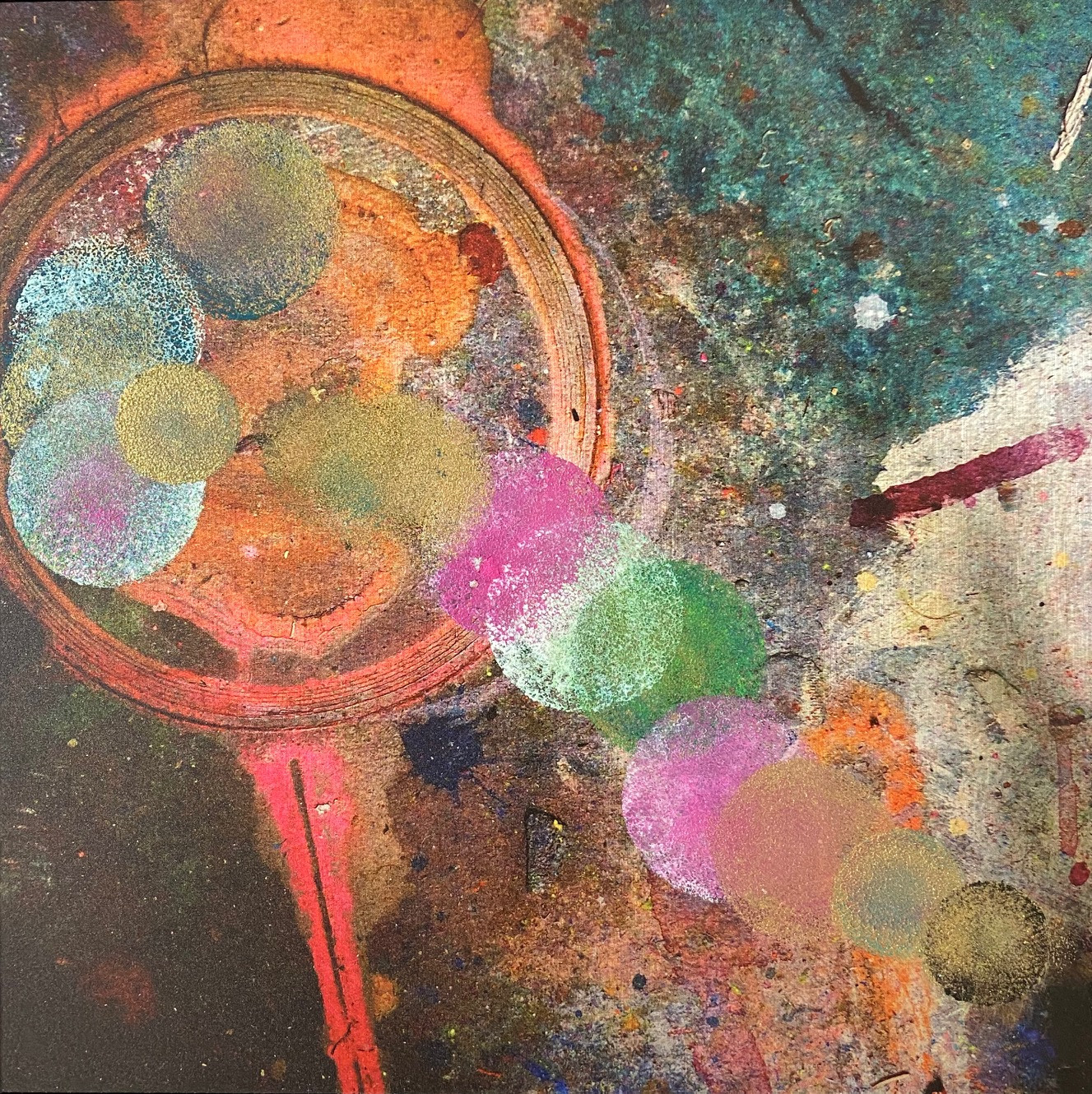 DANIELLE BENVENUTO & FRANK MASSHOLDER

From Chaos to Order
WE KINDLY INVITE YOU TO THE SMOOTH OPENING

21 NOVEMBER 2020 | 11AM - 10PM

Opening Time: Wed - Sa 2 - 8 pm


AT PROJECT SPACE KIMGO
JOHN-SCHEHR STR. 1, 10407 BERLIN

*Die Veranstaltung findet unter einhaltung der Geltenden Hygienevorschriften Statt.

Frank Massholder and Danielle Benvenuto join forces bringing their first duo exhibition to Berlin titled "From Chaos to Order".
Massholder presents his "Floorways to Art" project, one he conceived many years ago after following an impulse to photograph a spilled glass of wine he saw lying on the floor. Afterwards he began photographing the random designs of splashes of paint on the studio floors of artists from all over the world.
Benvenuto presents her circle paintings, a unique art form she developed in conjunction with her hallmark soul portrait paintings. In these works influenced by her prior career as a psychologist & energy healer, she uses colors, the geometry of circles & movement to express the unseen world of energy.
Massholder & Benvenuto recently merged their signature art forms to create a third world where circles meet the random designs of paint splashes. One can see in this joint creation both chaos and form as they move in and out of relationship to one another. In this dialogue, one can imagine or see a new world or a new potential as it births its way into existence.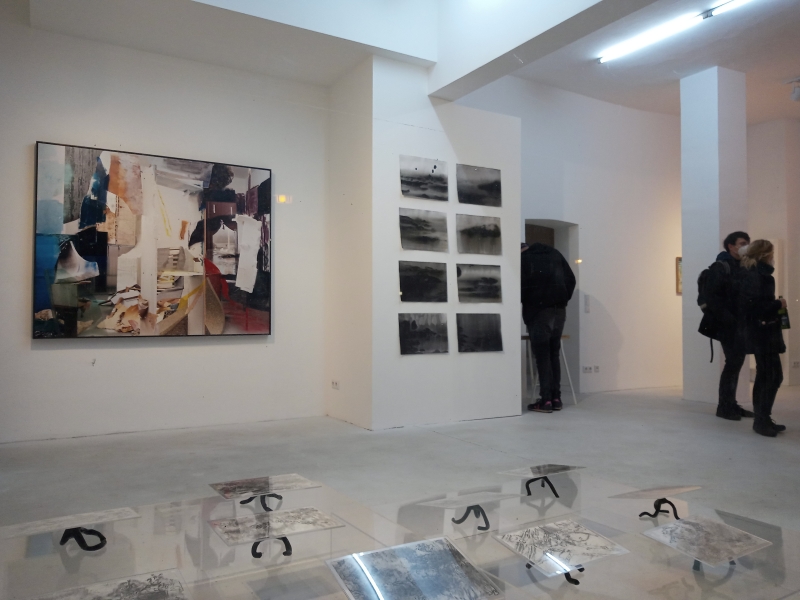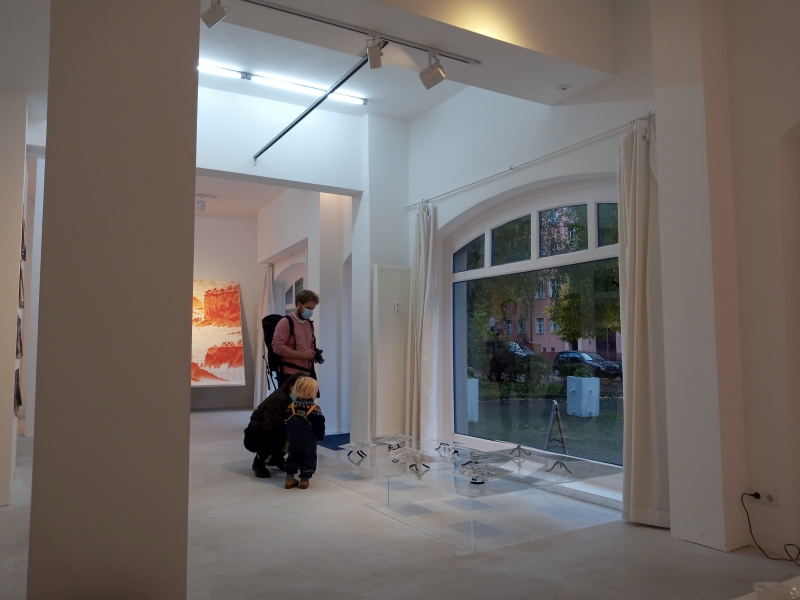 Ausstellung DIE NATUR DER DINGE
Opening 22.10. 2020 3 - 9 pm / 23.10 - 5.11.2020
Artist: Minsu Oh, Anna Gille, Lucas Ngo, Heike Gallmeier
Press Text PDF ︎︎︎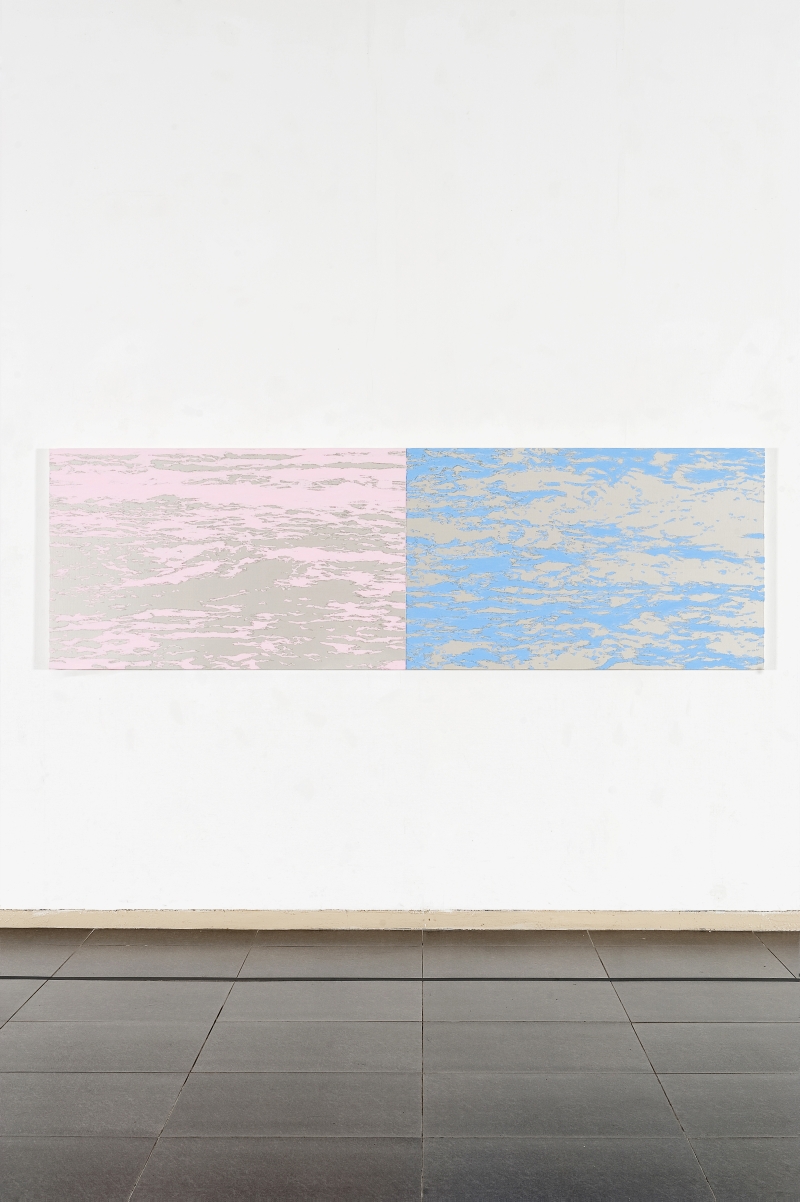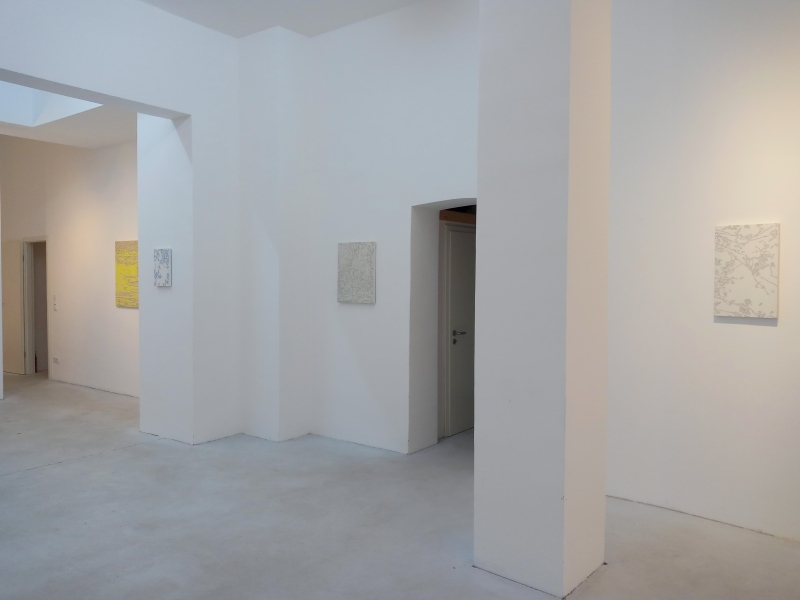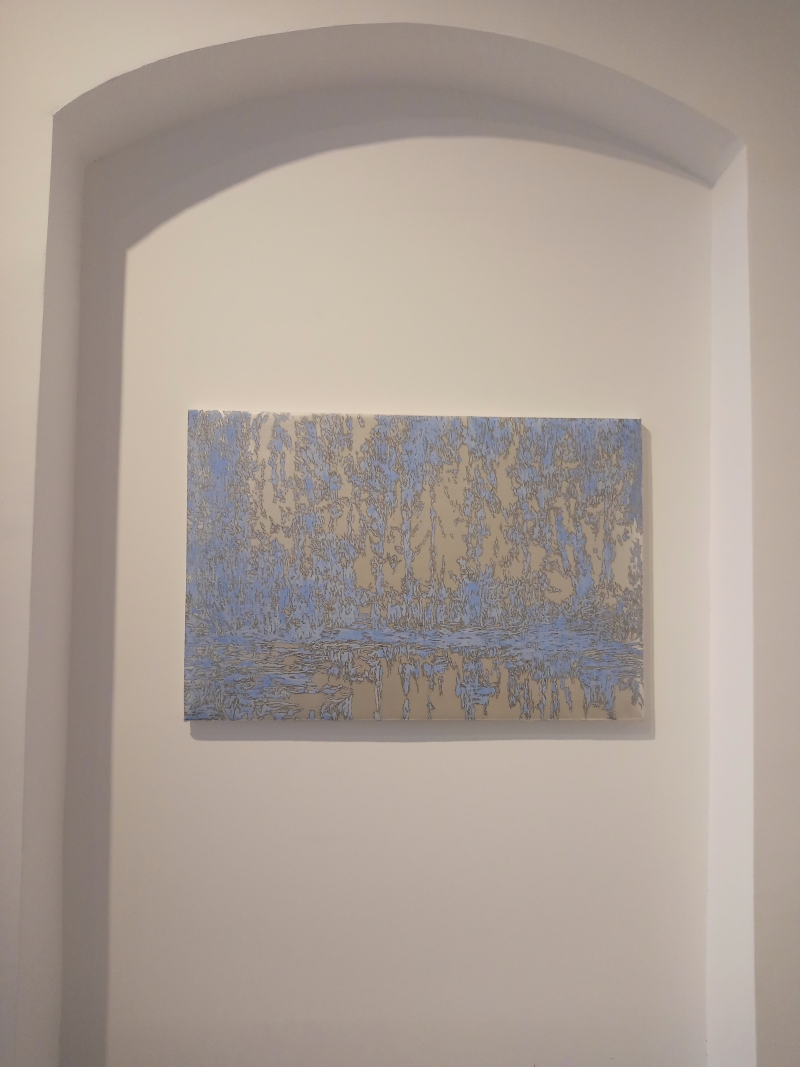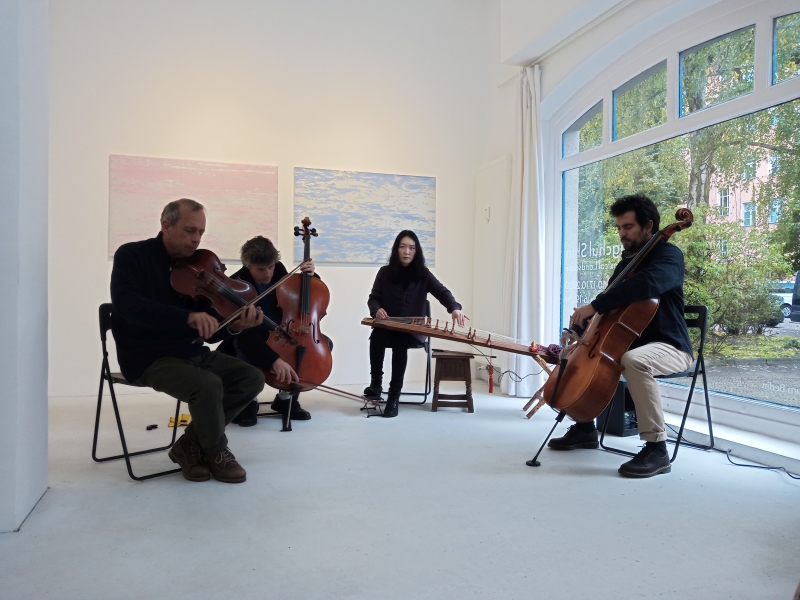 Ausstellung Paradoxical Landscape

Artist: Kyungchul Shin
3 - 18 Oct. 2020 Öffnungszeiten Do - Sa 16 - 19 Uhr
18. Oct Open Air Concert 3 pm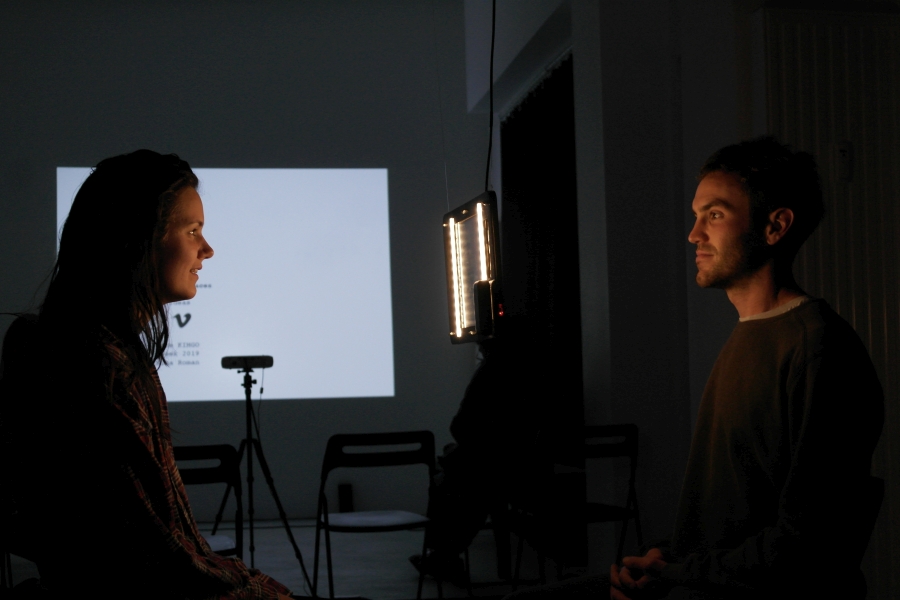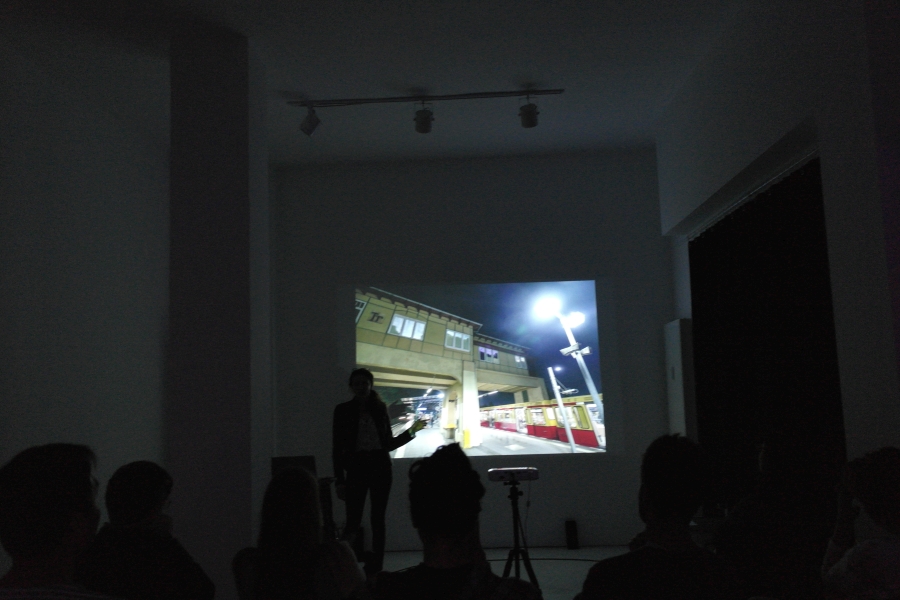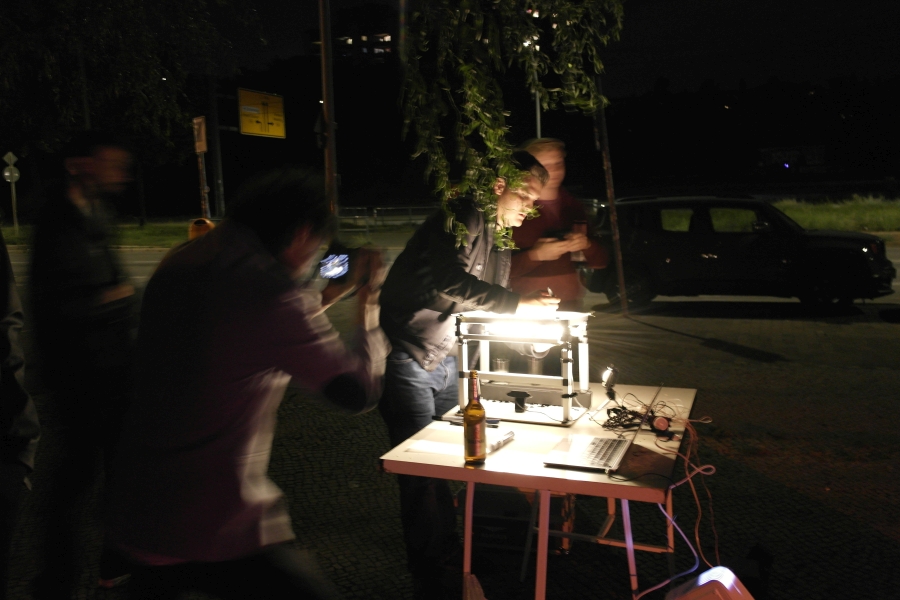 REFRACTIONS

im Rahmen der
URBAN ART WEEK
07.09. – 12.09.2019

Eröffnung: 7. September 2019, 19 Uhr
Arbeiten von:
Michael Ang
Atelier KIM & GOTTLIEB
Natalia Irina Roman

Kuratiert von
Stephanie Fenner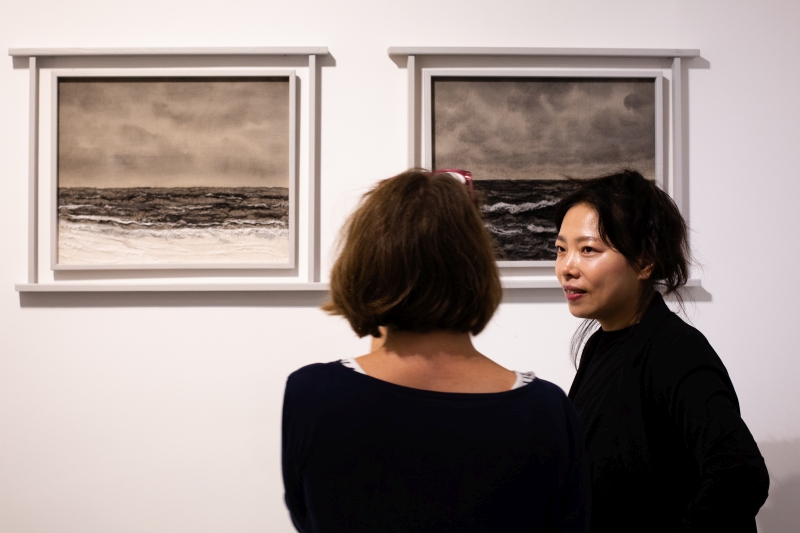 Wave& Ocean 26.09. 2019 8pm
Exclusive Art Night of Artist Jinran Kim with live music improviasation
17.05 2019 8pm
come to see and understand the breath - taking art works from
Jinran Kim and watch natural material.
Set
Heather Ryall (Clarinet)
Sylvain Monchece (Flute)
Lixue Lin Siedler (Bass Koto)
Exhibition Winterview
Opening December 13, 7 p.m.
Duration: Friday, 13.12 – 22.12, 2019
Opening Hours: Wednesday – Sunday, 4 - 7 p.m.
Artists: Giuseppe Madonia, Anne Bachschuster,
Xenia Schmidt, Water Yu, Baruch Gottlieb,
Jinran Kim, Antti Pussinen
Music: You Jin Sung, Miyoung Yoo
Curater: Baruch Gottlieb
WINTER FOREST
Artist: JINRAN KIM
Eroeffnet Freitag 11.01.2019 18Uhr
Geoeffnet Samstag 12.01.2019 15-22 Uhr
Konzert ab 19:30 Uhr Freitag und Samstag
Mit traditionalellem koreanischem
Musikinstrument Gayaguem
Stuecke komponiert von Hwang Byongi
gespielt von You Jin Sung
Lesung von Kunsthistorikerin
Gabriele Foerster

Die Serie "Winter Forest" der Künstlerin Jinran Kim zeigt mystische, menschenleere Landschaften aus Gaze und Asche.
Die Landschaften in schwarz-weiss erscheinen durch die plastische Modellierung mit Gaze sehr greifbar
und laden die Betrachter ein in diese winterliche, eisige Welt einzutauchen.
Schaut man genauer hin, sieht man, dass die Motive aus einzelnen Fäden der Gaze zusammengesetzt sind.
Ein sensibles und feines Material, das genutzt wird um Wunden zu verbinden und ihren Heilungsprozess zu unterstützen.
Es wird hier von der Künstlerin verwendet um neue Welten entstehen zu lassen.
Trotz der friedlichen Stille wirken die Landschaften gespenstisch und Unheil verheißend – die Natur als stummer Zeuge von historischen Ereignissen.
Mit diesen Arbeiten knüpft Jinran Kim an ihre Serie "After the Rain" an, die ebenfalls mit Asche und Gaze fiktive Ruinenlandschaften in Berlin nach dem Zweiten Weltkrieg zeigt. Sie führt damit ihre Faszination für die deutsche Geschichte und Erinnerungskultur fort.
Die apokalyptische Ruhe der Werke erinnert an die ruhigen, aber düsteren Wälder und Landschaften, die aus Grimms Märchenwelten stammen könnten.Obwohl sie den Betrachtern einen Schauer über den Rücken laufen lassen, werden sie wie magisch davon angezogen.